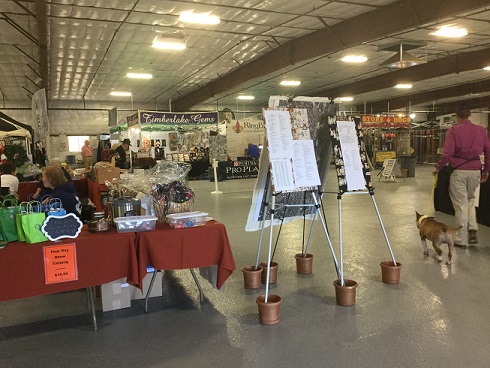 Welcome and thank you for your interest in becoming a vendor for the Coyote Classic Dog Shows. Vendors will be setup in Old Pueblo Hall and just in front of Old Pueblo Hall on asphalt. Per Pima County Fairgrounds restriction, no food or food products will be sold on the grounds except by vendors contracted by the Fairgrounds and the Coyote Classic. Depth of all booth space will be 10 or 20 feet and include power. Include any required walk space in your reservation. You must bring any equipment such as tables, chairs, power cords, tents/awnings, etc with you. All equipment and merchandise must fit inside your requested booth space.
Setup starts on Wednesday from 6-9 p.m. and then resumes again on Thursday, 9 a.m. Also on Thursday, the Vendor Chairman holds a Vendor's Dinner that starts at 6 PM and is traditionally a catered Mexican buffet. This is a chance to relax and socialize with the other vendors after a hard day of setting up your booth.
On-line ordering has closed.
On-line Vendor Parking Reservations
If you prefer not to make reservations on-line, the completion of a parking form is required. The form for advance reservations is not currently available, please check back on Thursday, September 27, 2018 after 5:00 PM PT
For additional information, please send an email to vendors2018@coyoteclassic.org
Schedule
Below are some important dates and times to keep in mind.
Deadline to be included in catalog:
Friday, October 26, 2018
Last day checks will be accepted:
Saturday, October 27, 2018
Setup starts:
From 6-9PM on Wednesday, November 14, 2018 and no earlier than 9AM on Thursday, November 15, 2018
Vendor Dinner:
6PM, Thursday, November 15, 2018
Daily:
Setup by 7AM
Booth must remain in place through Best in Show